August 25, 2016 - 6:40 pm
Koufonisia was a good stop, with a good mix of beaching, drinking, and eating. The Greeks are not stingy with the food portions or alcohol content. Dishes are massive, drinks are strong. But I must admit that I'm starting to get a bit tired of Greek salads, gyros, and souvlaki.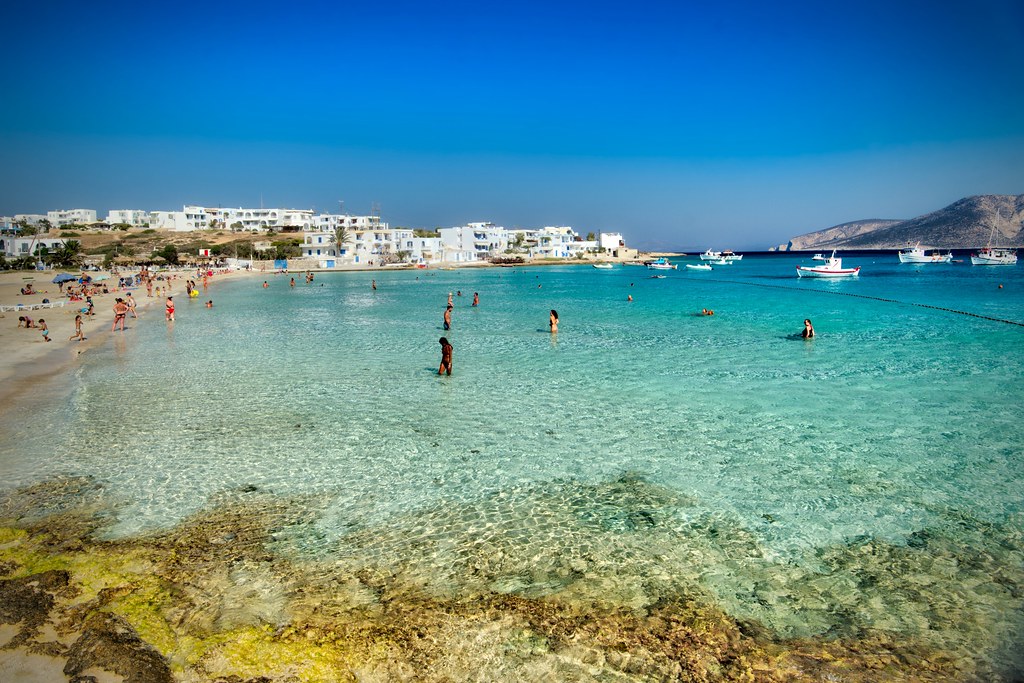 The blazing sun saps your energy, so exploring these islands can be a challenge. We rented bicycles to explore Koufonisia, but scooters or quad bikes, if you can find them, are the way to get around.
Leaving Koufonisia, we got some lines and anchors tied up in the harbor, which delayed our departure. After a few hours over some rolling waves, we were in Naxos (NAX-oss), the biggest island in the Cyclades. This island is little more developed and a little less beautiful than others, but it's huge, and there's a lot to see.
Cornelius, the German skipper of one of the other G Adventures boats docked in Naxos, took us on a day trip around Naxos. In rental cars, we visited ancient temples and churches, traditional Greek villages, a kitron distillery, and a took a hike up to a cave on Mt. Zas.
Our homestyle Greek lunch included goat, which tastes a lot like brisket. At the end of the meal, Conrad won himself €1 for eating an entire piece of cake in one bite.
We finished the day driving the roads along the northern coast back to the port. As the driver, I took advantage of Conrad and Dan's open windows and clipped every roadside bush and branch I could along the way.
It was in Naxos that Conrad and I finally realized that Greek nightlife doesn't get going until the wee hours of the morning. We headed out to the bars at 2:30am and returned to the boat shortly before we set sail to Schinousa (skih-NOO-sah).
We arrived in Schinousa to find a man slamming a freshly caught octopus against rocks to kill it and get the ink out. When his arms got tired, his wife would take over. Dan was fascinated and took lots of pictures.
Schinousa has to be the most boring island in the Mediterranean. Daisy sold it as a "chill" and beautiful island, but I found it to be a useless stop. Most of the Greek islands have some sort of archaeological history or optional activities to do, but Schinousa has nothing. Conrad enjoys the downtime because he's cool like that, but I prefer places with a bit more activity. The highlight of the afternoon was a sweltering and pointless hike up a hill and through a fence to a little stone house filled with goats.
Conrad and I killed the rest of the afternoon playing cards with Dan and Amie, the Australian couple in their mid-20's. After teaching them how to play Hearts, they're always up for a game, especially Dan. During the game, we talked about the other four Australian women on the boat, and Amie mistakenly, inexplicably, and hilariously referred to one of them as "Cheryl". We now affectionately call them "the Cheryls". Amie also taught us some useful Australian expressions like "stabby" (as in, "that road looks a bit stabby") and "chunder" (as in, "I took a big chunder in the bushes"). They also use the word "reckon" a lot. They reckon everything.
We ended the day with a nice group dinner at a restaurant called Deli.
Definitely a slow day today. Hoping for a bit more excitement on the next few islands.