After years of talking about it and a couple of months putting together a plan and getting our schedules lined up, Rob and I are finally taking another baseball road trip.
Rob's a guy I went to high school with. We bonded by riding the bench together on our high school baseball team and shared the somewhat dubious honor of winning the 110% Hustle Award, a plaque to players who shag fly balls and don't complain about it. It's basically a participation trophy that our coach signed with a worn out Sharpie because he couldn't be fucked to find one that wrote properly. Since then, we've become good friends for things baseball and otherwise. He's a cool guy to shoot the shit with and he loves to drive, both great qualities to have for a road trip partner.
Rob and I have taken a a bunch of baseball-related trips together from Houston to Arlington, Texas to see the Rangers, from DC to Philadelphia to see the Phillies, from DC to see the Orioles in Baltimore, and then a bigger trip to see the the Red Sox in Fenway Park in 2016. We also took a 9-day road trip across the western US from Los Angeles to Houston in 2000. On our trips, we subject each other to questionable music and a lot of barely tolerable humor, but we always have a great time. And it's been a while. We're long overdue.
We've come up with an itinerary that has Rob driving up from his home state of Georgia to me in Virginia and then setting off to see baseball games in Pittsburgh, Cleveland, and Baltimore. But thanks to the awesome road-trip planning websites that exist now, like Roadtrippers and Atlas Obscura, we've come up with an efficient route that not only takes us to the games but makes some interesting stops along the way, including the mysterious Space Acorn in Kecksburg, Pennsylvania, the grave of Mr. Rogers, the Flight 93 Memorial, and a curious stretch of road on Gravity Hill in the middle of Pennsylvania. As big fans of baseball history, we have also sprinkled in the sites of old ballparks now only remembered by historical markers and the graves of famous Hall of Famers who happen to resting in peace along our route.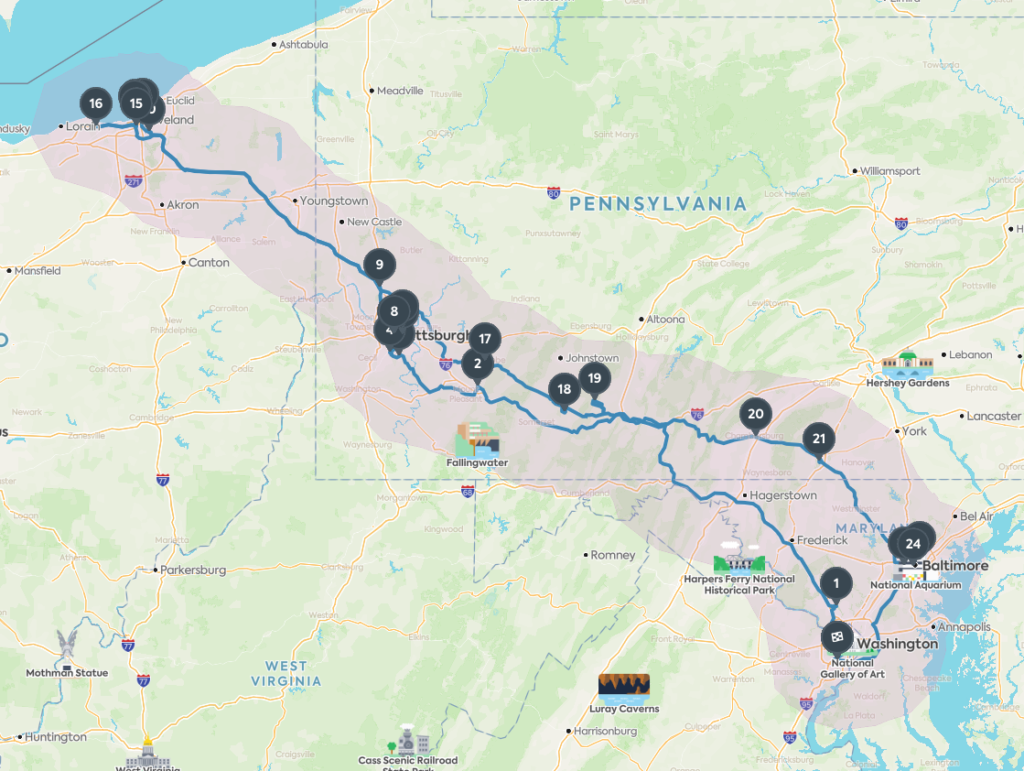 Yes, our road trips often take on the familiar themes of baseball, death, and aliens. We wouldn't have it any other way.
Tickets were purchased, parking was reserved, maps were plotted, Google docs were created, and we are good to go!
Rob arrived at my house this evening, making good time on his drive up. We stayed up late and spent several hours in the living room sipping on tea and catching up, just like old people. We reminisced about old times, shared some baseball memories, and laughed at some of the stupid shit we've done over the years.
Tomorrow morning, we're off!