September 17, 2015 - 8:24 pm
So I've been scrimping and saving up my vacation time for a couple of years to go on another big adventure. After a decade of amazing New Year's trips, I'm starting to run out of good places to go that time of year, so I decided to start looking at suitable trips to take in the fall.
I consulted my bucket list and cross-referenced it with tours offered by my two favorite small group travel companies, G Adventures and Intrepid, and came up with some great options. I briefly considered taking advantage of the economic struggles in Greece or taking a tour around Iceland, but in the end, I decided I could hit Italy, Barcelona, and Lisbon, all ranked quite highly on my bucket list, with the G Adventures Rome to Madrid on a Shoestring small group tour.
But who to go with? My usual travel partner, Doug, didn't have the vacation time. My other friends are busy having babies and working. I looked into some of the "find a travel buddy" websites like triptogether.com and travel-buddies.com, but they all seemed a bit sketchy to me. Do people really commit to spending several days with strangers? Is it just a global hook-up network? I don't know if I could ever take a chance like that.
So I decided to go solo. About six weeks ago, I sat at my desk at work and felt that familiar little buzz of adrenalin as I clicked the PURCHASE button on the G Adventures website.
My trip starts in Rome and skips along the Mediterranean coast to Pisa, Genoa, Monaco, Nice, Barcelona, Valencia, Granada, Seville, Algarve, Lisbon, and finally Madrid. That's 5 countries in 16 days. I haven't been to any of these places before. Some of them, I've never heard of. I haven't been this excited about a trip in a long time.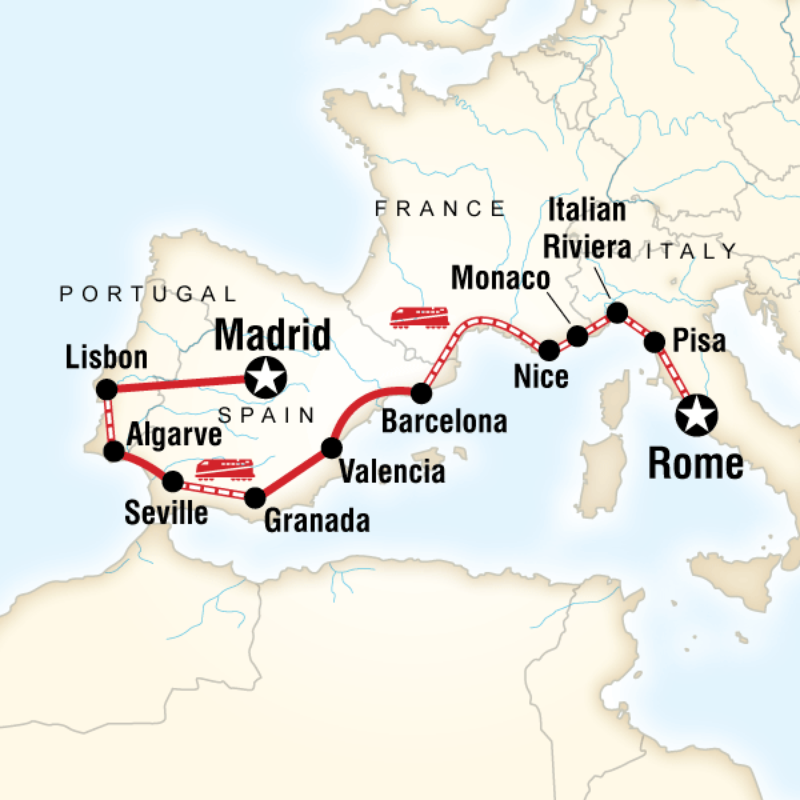 A 16-day tour for $2,374, combined with a $937 round-trip flight brings the total to $3,311. That's $207 a day for all transportation and accommodation and a tour leader to show you around at every stop. Seems pretty reasonable to me.
And then the rest of the planning started. Sure, the tour takes care of most of the logistics, but what did I want to do with my free time in each city? And did I want to spend a few extra days before the tour in Rome or after the tour in Madrid?
The internet is a limitless source of information and opinions. And I also had Andrea and Elizabeth, a couple of travel-happy friends at work, chiming in with some great advice. Googling and personal recommendations can quickly lead compulsive researchers like me to analysis paralysis, but I can always count on TripAdvisor to sort it all out for me. It really is one of the best websites in the world.
So the plan is to head out to Rome a couple of days before my tour starts so that I could see the city properly. I'm actually quite impressed at what I've put together. After touching down in Rome at 9:45am local time, I'll immediately head out to a self-guided walking tour of the Spanish Steps, Trevi Fountain, and Pantheon.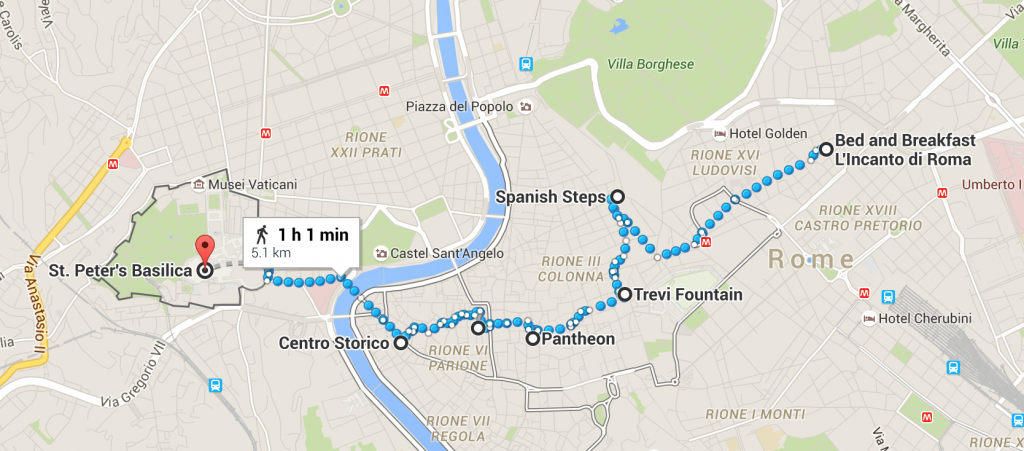 For the afternoon, I've booked an organized walking tour of the Colosseum and Roman Forum. Then a nighttime walking tour of the Vatican. The next day, I'll be taking a day trip to Pompeii and the Amalfi Coast. I would have liked to have end more time on the front-end of this trip, but I couldn't get the additional time off work. Grr.
The last few days leading up to this trip were a whirlwind of trip planning, tying up loose ends at work. Like an idiot, and like I always do, I put off packing until the last possible moment and stayed up for most of last night getting everything together. I'm already exhausted, and the trip hasn't even started yet.
Before boarding my flight, I hit an airport restaurant for my last stateside meal: a cheeseburger and iced tea. These are American delicacies I quickly miss when I'm overseas.
So here I am, en route to Rome in seat 39H of a US Airways Airbus A330. I always prefer window seats because I like to look out the window and I don't pee a lot. To my left is a hairy guy in his mid-30's with all the gadgets: iPhone, iPad, fancy headphones. He's so consumed by his iPad that there is no danger of him looking over and reading this.
The seats on this plane are all covered with faux leather. What a funny thing, leather seats on commercial airliners. We're hurtling through the air in a magical machine of interconnected rods and tubes and sheets of aluminum and titanium, a giant engine that generates thousands of horsepower screams on each wing, sophisticated software and miles of wiring monitor every aspect of the plane's motion and communication. This is a true miracle of engineering. And we have seats that are covered with animal skin. Or simulated animal skin. And it's just warm enough on this plane for me to start sweating and for the seats to get all hot and tacky. Gross.
It's a 9 hour flight from Charlotte to Rome. Outside, it's now pitch black except for a few stars above and a few stray lights below, with no horizon separating them. I guess we've made it to the Atlantic. I'm going to try to stop sweating and start sleeping so that I can get off to a fresh start in Rome.